If you need preventative care or repair of your bulkhead, you need our experienced professionals at Carolina Seawall Repair By Concrete Uprising.
Tidal surge and moisture intrusion are common problems for North Carolina homeowners with waterfront properties. A well-constructed seawall is essential in the protection of your property. Whether it is natural soil erosion, severe storms or rising sea levels, a seawall serves as the first line of defense against erosion, which makes seawall repair (sometimes called bulkhead repair) vital when there's an issue.
If you need preventative care or repair of your bulkhead, you need our experienced professionals at Carolina Seawall Repair By Concrete Uprising. Having our home in North Carolina gives us the insight needed into local weather and soil conditions. We have the skills and resources required to handle all of your seawall repair needs.
From your first phone call with us through the completion of your project, we have a program to help restore your seawall to full strength for superior protection against soil erosion. Concrete Uprising enjoys being the highest rated company in ALL the mid-Atlantic states.
What is a Seawall and Why is Repair Needed?
Just like you, we are residents here in North Carolina and enjoy the miles of beautiful coastline. But while all that water is beautiful, it can pose a danger to homeowners if not properly managed. That's where a seawall comes in!
Seawalls, sometimes called retaining walls or bulkheads, are large walls erected to serve as a barrier between land and the sea. These walls are usually made from reinforced concrete. Unfortunately, homeowners are not made aware that even the best built seawalls do need maintenance, and over the years, that concrete can take a beating and will eventually need to be repaired.
We have all seen pictures of failed seawalls on TV or other media. Sadly, many of them could have been saved if maintained. Instead the homeowners are now paying for replacement. Currently the removal and replacement of a seawall is about $1,300 per foot, so most replacements (with replacement of lost soil and landscaping) are well over $100,000.
You can get the peace of mind, at a fraction of the price, from our repair experts at Carolina Seawall Repair By Concrete Uprising. Our crew has decades of experience, and all of our repair methods are environmentally friendly. Call us today to request a quote and schedule your service.
The Three Types of Seawalls
Here in North Carolina, there are three main types of seawalls (or bulkheads) you'll encounter. Each type has its own set of benefits and drawbacks. The most common type of seawall is the concrete variety. These seawalls provide the most protection against the sea and are the most durable of the three options. A properly maintained concrete seawall can last for 50 years or more. The main drawback of a concrete seawall is the time and labor involved in the initial construction, but the benefits far exceed this drawback.
The two other types of seawalls common in North Carolina are wood and vinyl. Each of these provide some layer of protection against the sea, but both need more regular maintenance than their concrete counterparts.
At Carolina Seawall Repair By Concrete Uprising, we are your North Carolina-based concrete seawall repair experts. We have years of experience keeping concrete seawalls well-maintained and homes protected from waves, storm surge, and the soil erosion those cause.
The Benefits of a Seawall
Seawalls provide your property with more than just something beautiful to catch the eye. There are a number of practical benefits of your seawall. Aside from keeping your property protected from the sea in the event of a storm, seawalls also help to protect your property from soil erosion. Soil erosion is a natural process over time, but it can have a profound impact on your property. A seawall helps keep the sea waves at bay and protects your soil from being washed away over time.
The protection from storm surges and from soil erosion that a seawall provides also has the added benefit of boosting the property value of your home. Prospective buyers love to see that their potential new property is properly protected. So you can see why periodic seawall repair services from an expert like our team at Carolina Seawall Repair By Concrete Uprising is so important. Call us today to schedule an inspection and keep your seawall in great condition!
Common Seawall Problems Carolina Homeowners Face
Time is an important factor when it comes to your repair needs. Once a seawall has been compromised, soil begins washing away quickly. While soil erosion may not seem like the most urgent matter, complications and major structural damage can occur if your seawall is not repaired promptly. How do you know yours needs service? The most common signs that your seawall needs attention include:
Cracked slabs
Leaning slabs
Deteriorating slabs
Rust stains along the seawall
Low spots in the lawn behind the seawall
Sunken walkways
If you've spotted any of these signs, it's time to call the premier professionals for seawall repair in North Carolina, Carolina Seawall Repair By Concrete Uprising. We'll come to your property to inspect the damage to your seawall and offer you a free estimate.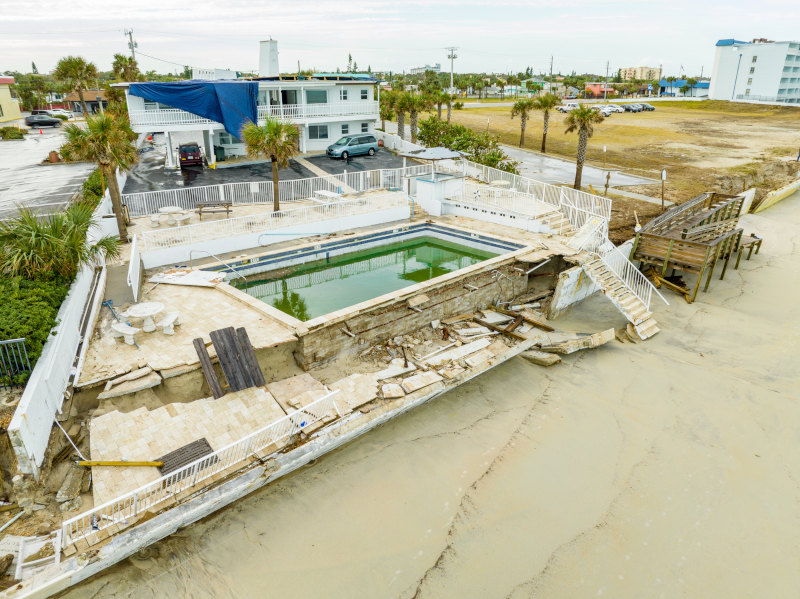 The Major Problem with Seawalls
The major issue Carolina homeowners face is in the original design of the seawall itself. When seawalls are installed, companies bring in huge slabs of concrete that are set into place. These slabs are held by columns and sometimes ties that anchor them back into the ground. By design, the weight of the walls pressing down on the sand is supposed to make a seal. When there is more stone or dense soil is under one side of the wall, it settles unevenly, causing the sand to wash out from the other side. The stress from the uneven support causes cracks in the concrete.
The only way to retard this settlement and reduce the chance of cracking is to solidify the ground under the wall using poly injection. A long injection pipe is pressed down to the base of the wall and effectively glues the sand grains together, resulting in a substance that resembles sandstone.
The image to the right is showing a recent project where the resin is traveling from inside the wall, through the void under the wall, and surfacing 4-6' into the water. This is the same area in which sand migrates out from your home. Deep-wall injection fills the void and glues the sand together, retarding the migration of the sand from under the wall.
For further information how strong the injected sand is,there is a chart in the ground stabilization section.
Similar Services We Offer: